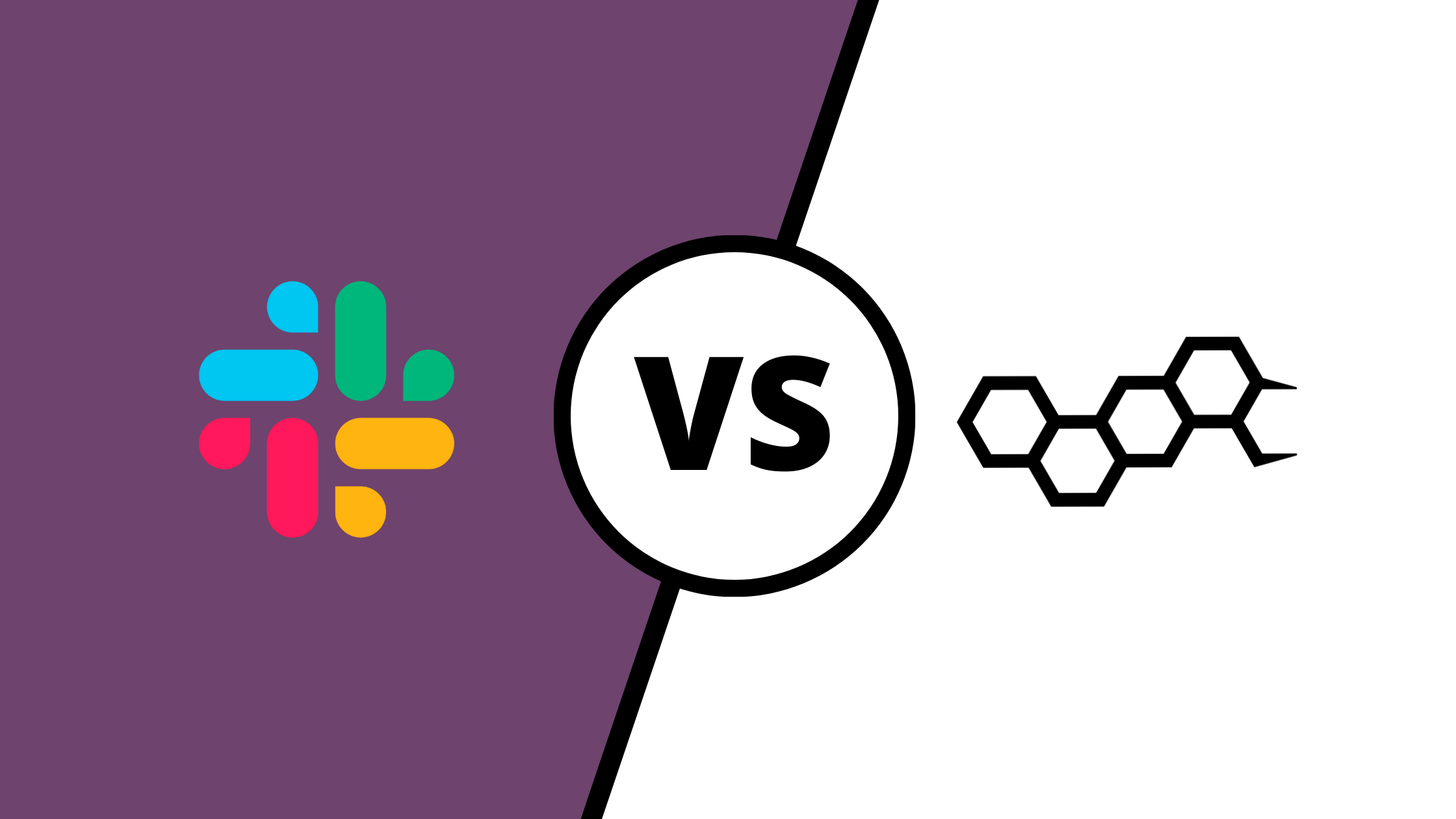 09 Dec

Slack vs SweetHive: Comparing collaboration platforms

If you search on Google 'meaning of collaborative platform' there is no clear definition, which justifies the fact that the term 'collaborative platform' is still little known in the Italian market. 

However, we are helped by a 2008 paper by Lomas, Burke and Page, who define 'collaboration tool' as a tool which helps people to cooperate, the aim of which is to support a group or 2 or more individuals in achieving  a common goal. In this article we compare Slack and SweetHive, two collaborative platforms on the market, to make clear the differences that make both products high-quality.
Slack and SweetHive
Slack was introduced on the market in 2009 with the aim of helping teams work better and, after 12 years, we can say that it is amongst the most used collaborative platforms. If previously emails were the best, if not the only way to share information at work, now, with Slack, it's channels, spaces in which to funnel information.
SweetHive, on the other hand, was officially launched in October 2014 with the aim to help organisations as a whole work better. 
Like Slack, it allows users to reproduce their virtual organisations and improve productivity; nonetheless, it does not use channels but hives, contexts and groups.
Slack vs SweetHive: in short
SweetHive and Slack are quite different in design and considerably in terms of the philosophy of collaboration. 
Slack is fairly easy to use in one or more teams but requires more attention when the organisation grows. SweetHive, on the other hand, allows you to manage with the same ease a big organisation, as well as a small one. 
Slack supports over 2000 applications, SweetHive offers the opportunity to integrate any application within it (even management systems) that is already used in the company. 
Both the platforms have free plans.
Slack's free plan does not have any limit in the number of 'members' to invite, however it does limit the number of messages: members can indeed send an unlimited number of messages, but only the most recent 10.000 can be searched and viewed in the workspace. This can create issues when we need to verify conversations history. 
By contrast, in the SweetHive free plan you can invite a maximum of 6 members. This is optimal when you want to manage not so much a complex organisation, but a team for more 'consumer' management, such as a home, a group of friends or a small association. 
In the paid one, the guests are unlimited which means that you can invite all the friends, partners, clients or suppliers you want, with no constraints.
However, to get the most out of SweetHive and Slack, it is better to opt for a paid plan.
[/vc_column_text][/vc_column][/vc_row]
Slack vs SweetHive: how they work 
Collaboration between people is based on the sharing of data and information and on the actual ability of interaction. This sharing of information can be done in different ways: in organisations the most common way is emails, followed by  -or often combined with – collaborative chats, such as Slack.
Channels versus Contexts 
In Slack, to access conversations you need to select a channel in the list, which is as long as created channels (or chats). This philosophy, simple for a few teams, creates issues when the number of channels grows:  Slack is an effective system as long as it's used within a limited part of an organisation. In a situation where managers and departments need to communicate with each other, there is a very high risk of creating too many channels and having too much duplicate content, so much so it becomes complicated to follow conversations and business dynamics simply by skipping from one chat to another. 
In SweetHive, on the other hand, all communication and applications flow into the hives – the work environments – solely through contexts , which represent the topics subject of any collaboration activity. 
Contexts are organised by levels and allow you to represent online the real organisation. Contexts help keep together all the conversations, images, videos and notes that relate to a specific topic or an area of work. This is why we say that content is contextualised. 
Unlike channels and chats, in each context you can choose for every single communication, which group of people you want to share it with. This allows you to save time on searches working in a more efficient way because groups talk to each other creating an engagement effect on every specific context. 
What systems thought for teams, like Slack, are lacking is the possibility to manage multiple topics of discussion in the same chat (avoiding multiplying the number of channels to follow). With SweetHive users can follow one single stream of messages (1 thread), which in turn consists of messages that come from different contexts. Looking at this stream you are able to understand everything that is happening and that concerns your role in the organisation in which you are really involved.
Parallel chats versus Contexts hierarchy
How do you go from topic to another in the 2 systems?
Slack, as we have seen, is organised in many chats in parallel. If you want to better understand the content of a specific topic, first you need to find the right channel in the list (difficult when the chats are many) and, once in, you need to scroll down until you find the topic that you are interested in. So, to move from one topic to another you need to switch from channel to another.
In SweetHive, on the other hand, each message is organised within  contexts that are structured hierarchically between each other (similar to what happens with folders). This allows you to organise content and conversations at the source. In addition, SweetHive has an important feature: in every context you can see content and conversations from all lower levels. This allows you to move quickly from general to particular. This can be done, for example by exploring the contexts hierarchy on the navigation menu or by clicking directly on the context name which appears on each individual message (drill-down).
Viceversa, if you want to move up levels going from particular to general, there is the GoUp button which you can find on the left of the messages search bar or in each App (Drill-up).
This feature surely simplifies users lives because it makes it possible to follow one single stream of messages without having to open a lot of chats to be able to keep up with changing events. 
This mechanism occurs not only for messages but also for files, reports, images, videos, tasks and everything else offered by the platform or  the integrations.
Synchronous communication versus asynchronous communication: the role of triggers in productivity
Slack= chat = synchronous communication = many triggers, because someone is awaiting a reply straight away
Have you ever asked yourself how productive chatting really is? Being too exposed to triggers increases the level of stress and often makes it difficult to concentrate on what you are doing. At times organising short targeted calls during the day can be more productive. Furthermore, extensive literature demonstrated that digital triggers create addiction like cigarettes, the risk for productivity is that people tend to spend more time chatting rather than doing more productive activity.
SweetHive = post = asynchronous communication = few triggers, once you are ready to process a new topic you move to its context, where, at the right time, you can find right away everything needed to be quick and efficient in the reply.
This second approach allows you to keep people less stressed in the organisation, while also keeping them more focused and productive. Limit triggers only for reminders where there is a real urgency, avoid negative effects of digital 'addictions'. It also allows people to carry on their work to cooperate when they reach an advancement.
In short: both of these apps offer great features to foster collaboration, but they are designed to meet different needs. 
If you need to manage a few teams, share a limited number of documents and information on a few projects, Slack is an excellent option. But, if you need to manage a medium or large organisation, SweetHive meets your needs better, as it contextualises roles, different functions and ways of sharing information.
| | | | | | |
| --- | --- | --- | --- | --- | --- |
| | Free plan | Members | Guest | Messaggi | Canali |
| Slack | Yes | Unlimited | Unlimited | 10.000 (In the free plan) | Unlimited |
| SweetHive | Yes | 6 | Unlimited | Unlimited | Only one |
If you are looking for an app to collaborate synergistically with teams, we advise you to try SweetHive. A support team will help you in its configuration. 
If you are interested in SweetHive you can contact us today and book a free demo!