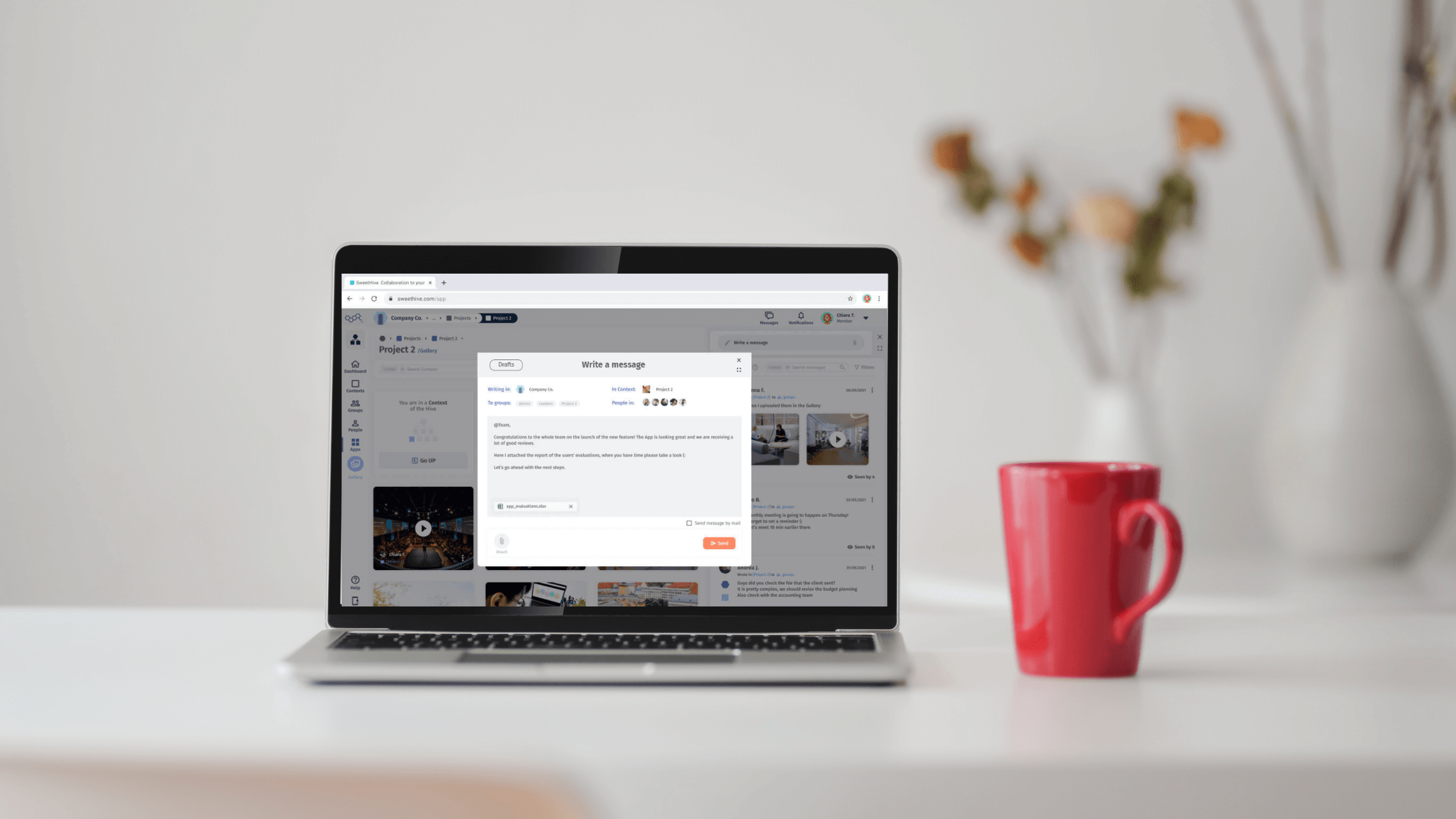 20 Dec

How to write a message in SweetHive, comparison with Slack

Communication in a company can never be overseen: it helps in improving one's own image and credibility, and from its efficiency depends on the motivation and productivity of the employees. 

At the foundation of good communication though there is not only content but also the tool used because, as we have already seen in this article nowadays there is more than just emails to communicate in company. 

Let's start from the first step to begin a conversation: writing a message. Let's see how to do it through two communication platforms currently on the market: Slack and SweetHive. Happy Reading!
How to write a message on Slack
As reported by the blog, on Slack conversations happen in channels and in direct messages (DM). There are two ways to start writing a new message: using the button 'Write' or typing a message in the message field of any channel or direct message. You select the individual recipients of the message and you send it with the paper plane icon.
The second method is to click on the message field in a channel or in a direct message, write it and send it by pressing Enter.
While you write you can select a quick action, tag a user or add emojis or files. Once the message is sent, it will be automatically added to ones present in the channel selected at the moment of creation or it will be added among the direct messages if only one user was selected.
Slack points all its energy towards funny communication, where the user feels free to send kisses, hearts and other nice reactions to colleagues, in a very social perspective.
How to write a message on SweetHive
In SweetHive you can create a message by selecting the section "write a message" on the top left of the platform. With SweetHive you first have to select the relevant context and the groups, that is the set of people that have the same function and are therefore potentially interested in reading and sharing your message. [/vc_column_text][/vc_column][/vc_row]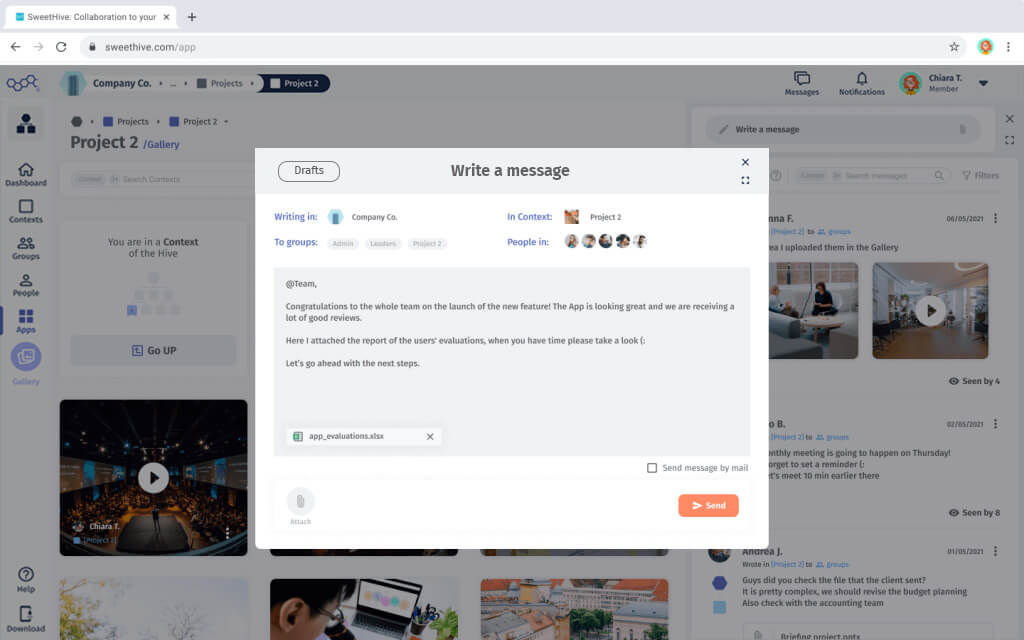 You can attach documents, videos, images or saving events in the calendar to get an ever richer communication: to do so, it suffices to click on the icon 'attach' in the panel of the message and select the type of document that you want to share.
Unlike Slack which as we have seen focus on funny communication, SweetHive makes it possible to write a tidy, clear and direct message where the focus is on expressing the information without distractions.
Slack: the single user, general groups and multiple channels
When you want to send a message on Slack, you can select one person, group or channel to send it to. In this way, as defined by the blog,  notifications will be sent to the single user or to all members of the group respectively.
As previously mentioned, the message will be added to those on the selected channel or among the direct messages. This type of feature, if not used properly, can lead to the creation of many channels and the possible inability to follow conversations effectively.  On the other hand, you can find yourself in more different groups and channels talking, maybe, about the same topic.
SweetHive: the groups roles, functions and one single thread
In SweetHive the enabled groups correspond to the roles and the functions of each employee. In fact, when you write a message you can select infinite groups with an infinite number of people in them. However, the available groups to choose from are those that, by role and function within the organisation, are somewhat relevant to that certain context. In this way every single user has much quicker access to the information and they are always informed on everything that concerns him in relation to their role in the organisation and the selected context. 
They do not suffer the stress of managing too much data, being late with replies or not remembering what they needed to do. It allows you not to have people that have not been properly informed because the platform is personalised in relation to the work.
The strength of SweetHive is then to have one single thread of messages and no longer many channels. Looking at this stream you are able to understand everything that is happening and that relate to one's own work  in the organisation.
| | | | | | |
| --- | --- | --- | --- | --- | --- |
| | Direct messages | Thread to follow | Users groups | | |
| Slack | Everyone in the channel | Many | Defined by area of work | | |
| SweetHive | Selected groups in the context | One | Defined for role and functions |   | |
Involving groups of people according to their roles
The added value of sweetHive is to boost communication not much towards a single person but rather a groups of users: this way the involvement effect comes as a consequence. Indeed people take on a more active role  and positively modify their attitude, creating a virtuous cycle that transforms organisations, making them faster, more efficient and more successful.
If you are looking for an app to collaborate synergistically with teams, we advise you to try SweetHive. A support team will help you  in its configuration.
If you are interested in SweetHive you can contact us today and book a free demo!
Ps 
We are also working to add emojis for fun communication. Stay tuned 😉